ABIA HAS SHOWN CAPACITY AS LABOUR PARTY STATE, OUR IDEOLOGY IS PEOPLE ORIENTED——- GOVERNOR ALEX OTTI
The Governor of Abia State Dr. Alex Otti, OFR, has expressed that Labour Paty's ideology is people oriented and emphasized the unwavering commitment of his administration to ceaselessly portray the good ideologies of the party.
The Governor who was ably represented by his Deputy Engr. Ikechukwu Emetu made this known during the occasion of the Colloquim and Hall of Fame Award in Honour of the National Chairman of Labour Party Barr. (Dr) Julius Abure organized by Edo policy round table in conjunction with Mudiame University Irrua.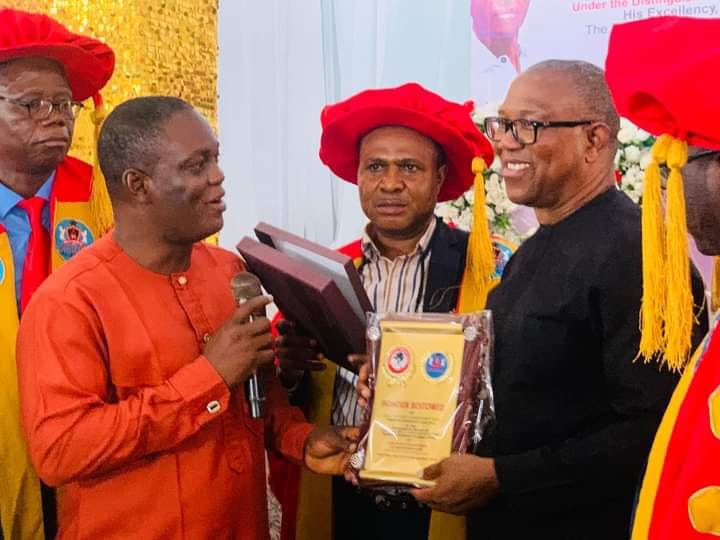 Engr. Emetu eulogized the Labour Party National Chairman, he stated that the recognition and award in his Honour is well deserved. He urged the party faithfuls and Stakeholders across the party hierarchy to be steadfast and uphold the principles of the party.
The Labour Party Presidential Candidate in the 2023 presidential election Mr. Peter Obi in his goodwill message appreciated all the participants and the organizers of the program. He reiterated the need for a new Nigeria where prosperity, Justice and peace will reign supreme. He lamented over the financial recklessness and self aggrandizement of political office holders and reassured Nigerians that they is hope for a better and a new Nigeria.
The highlight of the ceremony was the presentation of excellence awards into the Mudiame University Hall of Fame to the Executive Governor of Abia State Dr. Alex Otti OFR, Barr. (Dr) Julius Abure and Mr. Peter Gregory Obi.
Authority Michael Ukpabi
Special Assistant on Media to the Deputy Governor, Abia State.
SPECIAL ADVERT PROMO FOR 2023 IGBA-OTOMU, IGBA-UCHE, IGBA-EKPE, IZU-UCHE, IGBOTONMA AND IZA-AFA
This is a special promo designed for our brothers, sisters, mothers, fathers etc who are involved in the above events and others not mentioned during this Xmas period to reach out and showcase their event to the entire world at highly subsidized rate.
PACKAGE:
First Leg: Full page Promotional package showcasing your Invitation Card, Banner/Flex, 3 different Photographs and brief of the coming event. Also your picture/Name will be the headline News in AttNews blog(Pre-Event)
Second Leg: Full Page Promotional package of the event showcasing 5 different photographs plus short video clip of the event. Also your picture/Name will be the headline news in AttNews blog(Post-Event).
Rate: N20,000 Only For Both Pre and Post Events. (Rate is only Applicable during the Promotional Period)
For further inquiries, contact the undersigned:
Dr. Uduma Nnate (Publisher)
08132260609
Chief Imo Ukwa(Advert Consultant) 08063779938