GOV OTTI MOURNS AS LATE AUNT, MRS. UZOAMAKA NWAZE, IS LAID TO REST IN EBONYI
The remains of late Mrs. Uzoamaka Chinenye Nwaze, auntie to the Abia State Governor, Dr. Alex Otti, OFR, has been laid to rest in her hometown, Uburu, Ohaozara Local Government Area of Ebonyi State.
Mrs. Nwaze (nee Odabe), younger sister to Governor Otti's mother, Late Mrs. Rose Otti (nee Odabe), died on June 6, 2023, aged 65. She was a former school teacher.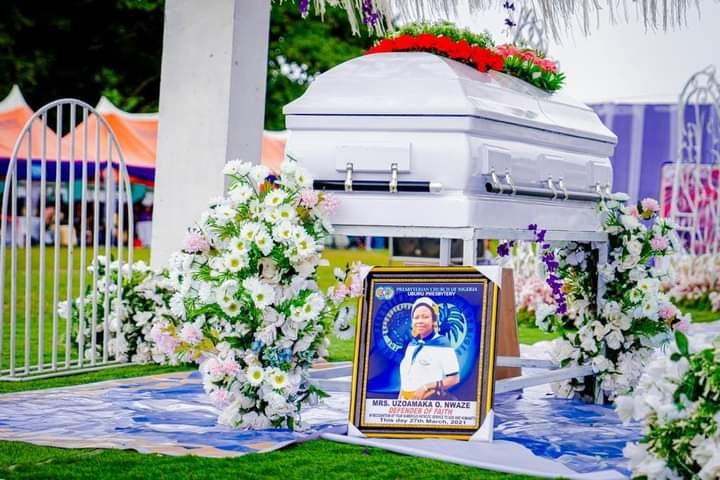 Speaking during a funeral service conducted in her honour by the St. Andrews Presbyterian Church of Nigeria, Uburu Parish, on Friday, Governor Otti, while thanking God for the life of her auntie, described the deceased as a great woman, who cared for people.
"I want to advise that we all take heart," Governor Otti consoled the families her auntie left behind.
He continued: "I grew up knowing my auntie because she used to live with my mother and my father. It took years for me to understand that Auntie was actually not my biological sister. From cradle, she looked after myself and my immediate younger brother and we lived with her as an elder sister, sometimes fighting, resolving.
"I want to thank God for her life. She was a great woman, a good woman, a very good woman, and you can take it from me. A woman with a heart of gold, compassionate, always there for you. Sometimes you will be wondering why she was concerned about things that have to do with other people than herself."
The Governor said that he was shocked to his marrows when the news of the death of Mrs. Nwaze was relayed to him on June 6, 2023, just days after he was sworn in as the governor of Abia State.
Governor Otti encouraged himself, saying that her auntie has only transited to etermal glory. He advised other members of the family, particularly her immediate family, to take heart and expressed hope that the late Mrs. Uzoamaka Nwaze will rise again on the resurrection morning.
In a sermon, "What Life?", Rev. Emmanuel Agwu enjoined all not to boast about life as no one knows the beginning and end of life.
He called on the living to surrender their lives to Christ as no one knows tomorrow, adding that the only thing that would keep people's memories when they are gone are the good things they did during their life time.
In a biography on behalf of the family, the eldest son, Mr. Fidelis Nwaze described their mother as an excellent family woman, who raised her children to become responsible, fostered peace and unity and served God fervently during her life time.
Late Mrs. Uzoamaka Chinenye Nwaze is survived by her husband Mazi Fidelis Ogba Nwaze, her seven children, 10 grand children and a host of other relations.
A former GOC 81 Division Lagos, Major General Obi Abel Umahi (rtd); the Deputy Speaker, Abia State House of Assembly, Mr. Austin Nmeregini Okezie; the SSG, Professor Kenneth Kalu; Chief of Staff to the Governor, Pastor Caleb Ajagba, and other members of the State Executive Council and senior government officials attended the funeral.
KAZIE UKO
Chief Press Secretary to the Governor
Abia State
November 3, 2023
SPECIAL ADVERT PROMO FOR 2023 IGBA-OTOMU, IGBA-UCHE, IGBA-EKPE, IZU-UCHE, IGBOTONMA AND IZA-AFA
This is a special promo designed for our brothers, sisters, mothers, fathers etc who are involved in the above events and others not mentioned during this Xmas period to reach out and showcase their event to the entire world at highly subsidized rate.
PACKAGE:
First Leg: Full page Promotional package showcasing your Invitation Card, Banner/Flex, 3 different Photographs and brief of the coming event. Also your picture/Name will be the headline News in AttNews blog(Pre-Event)
Second Leg: Full Page Promotional package of the event showcasing 5 different photographs plus short video clip of the event. Also your picture/Name will be the headline news in AttNews blog(Post-Event).
Rate: N20,000 Only For Both Pre and Post Events. (Rate is only Applicable during the Promotional Period)
For further inquiries, contact the undersigned:
Dr. Uduma Nnate (Publisher)
08132260609
Chief Imo Ukwa(Advert Consultant) 08063779938