A RESPONSIBILITY TO DEVELOP OUR PLACE
Being A Speech Delivered by the Governor Of Abia State, Dr. Alex C. Otti, OFR, at the South East Economic and Security Summit In Owerri, September 28 – 29, 2023.
Protocols,
I am most specially delighted to stand before you today and share my thoughts on the importance of this summit and the expectations of many Igbo sons and daughters, and other interested local and international players, who will be quietly following to see what fruits this event would bear in the medium to long term.
Permit me to begin by appreciating the South East Governors' Forum, the leadership of Ohaneze Ndigbo, the Summit Central Organising Committee and all the individuals and groups who contributed in diverse ways to make this programme a reality.
I thank you for the sacrifices and for everything you have given to bring our people together to reflect and talk to ourselves on the two issues that are very critical to our survival and prosperity as one people: security and economic prosperity of the region.
It is fulfilling to observe that all the clans, socio-economic, political, cultural and demographic groups within the South East region are fully represented and the importance of this should never be lost on anyone.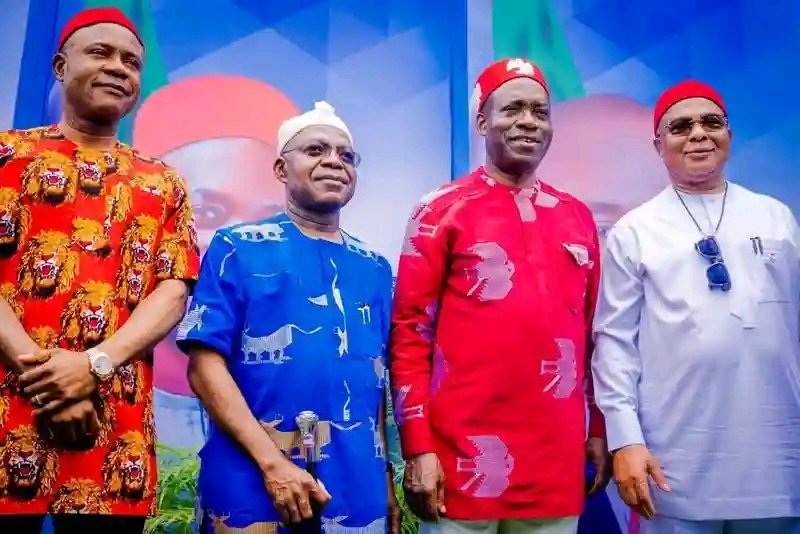 The vision of the organisers of this event is very clear: building a secure, prosperous and economically robust south east. This intervention is very timely and it is good we have in this auditorium, individuals with records of proven achievements in all the thematic areas.
It is my expectation that the insights to be shared by these accomplished men and women shall help chart a new path for our land, which unfortunately, has become beleaguered by several challenges that could not have been contemplated just a few years back.
Our duty here is to tell ourselves the truth and we must resist the temptation to let political considerations minimise the frankness and sincerity that should be central to our recovery and restoration. A lot has gone wrong in the last two decades and more and the triggers were both internal and external.
What we must do over the next 2 days is to look ourselves in the eye and admit that we have indeed not lived up to the vision and dreams of our fathers, the men who built what was once one of the most thriving economic centres of enterprise and productivity in the entire world.
Dr Nnamdi Azikiwe, Dr. Michael Okpara, Dee Sam Mbakwe, Dr. Akanu Ibiam and others achieved so much for this region not because they had all the money in the world. No. What they had was a clear vision of where they wanted the region to be and followed it with the right commitment, made the requisite sacrifices and built the networks and partnerships that enabled them to achieve so much within a very short time.
Some of the most better-developed cities and towns, outstanding institutions and structures we still have across all parts of Igboland and beyond bear very eloquent testimonies to the vision and developmental strides of our fathers. The question is: why did we stop? What comparable achievements have we recorded in the last forty years, compared to the previous forty?
While it is very convenient to blame military interventions and external sabotage for much of our failures, we must also look within and ask soul-searching questions: have we been fair to ourselves? As leaders, have we done the best to advance the socio-economic interests of the land?
Trading blames and pointing accusing fingers at others will do us no good. To solve our problems, including worrisome insecurity, requires the collective engagement of all stakeholders. As leaders, we must acknowledge that the challenges we face today were products of yesterday's failures.
How do we create jobs and the enabling environment to sustain enterprise? How can we support our young people to live out the full expression of their dreams here? How do we build an ecosystem that attracts and retains the best talents we can find? The needs of the modern man have evolved and we must be able to develop the structures that speak to the appetites of the average individual in this age.
Modern housing facilities, quality road networks, dynamic educational facilities that answer to the learning needs of the global economy, smart cities, high speed broadband internet, one-stop shops and retail malls, standard hotels and event centres, parks and gardens, secured and clean neighbourhoods, financial services centres and access to quality water have become very central to our existence in this age and any government that compromises on these would continue to witness the mass exodus of its best brains and minds.
So what is the way forward? I cannot claim to have all the answers but I have a few ideas that I believe are worth examining. One, we must be willing to engage with our youth population; understand their needs and address that sense of alienation that is continuing to linger. We must importantly identify effective ways of tapping into the power of their creative minds for there lies our advantage.
Additionally, we must appreciate that there is anger in the land and there is a reason many people are disappointed. We must open a window of engagement with those who believe that they have not been paid attention to. As leaders, we must be open to listening to those we are leading, especially when we have different ideas about certain key issues.
We must work for justice, justice in our communities, justice in our region and justice in the entire land. The common man feels that anything can happen and justice would hardly be done. The extortion and exploitation of our people by those in power must stop and the life, voice and freedom of every individual must count, within the limit permitted by the law.
We must rise to condemn the rampant acts of bloodletting and other forms of violent crimes in the region. Our culture and tradition regard the human blood as very sacred and we must hold on to that. The desperation to get rich, especially amongst young people, has reached epidemic levels and we must be genuinely worried. Is there anything we can do to make contentment a virtue in our land once again? I will leave that to everyone in this auditorium.
We also have a responsibility to find ways of addressing the rising problem of drug abuse which is damaging the life and potentials of many of our young ones. Supply must be cut off and those who profit from this pattern of destruction made to face the full wrath of the law. This is one matter we must never compromise on, if we want to restore security, and sanity in the communities.
Importantly, we must encourage our people to look east by creating the right environment for their businesses. I want to specially commend the industrialists and businessmen who are continuing to invest in this region. I thank you for your efforts at job creation and holistic economic growth within the region. I encourage others to begin to see the great opportunities that are developing here. Remember, fortune, they say, favours the brave.
As political leaders, we must set the pace by identifying investment opportunities within our domain and commit adequate public resources to motivate private investors. We must lead the way and there are lots of opportunities waiting to be harnessed in oil and gas, hospitality, transportation, education and so much more.
While it may make sense to say that government has no business being in business, it is also factual to say that without government direction and commitments, no business will remain in business for a long time. Where necessary, government must intervene directly in business. America spends $28-$30 billion annually to subsidize agriculture and keep over 600,000 farmers at work. In addition, it subsidises Energy and transportation every year.
At this point, I want to specially invite everyone seated here to the ground-breaking ceremony of the Abia Industrial and Innovation Park in Owaza, Ukwa West LGA of Abia State this Saturday, 30th September 2023 by 12 noon.
The Park, seating on over 1,000 hectares of land, would host multiple layers of businesses including modular refineries, petrochemical and fertiliser plants and several other chains of enterprises that would take advantage of the oil and gas deposits in Ukwa, nearness to Aba and Port Harcourt cities, a seaport in the works, EPZ, twenty four power supply and other components of the larger ecosystem within the community.
Already, we have secured the support of a major stakeholder to build an innovation and incubation centre within the Park. The facility would train and expose our young minds to the best tools and platforms for their trade. The innovation and incubation centre would specially benefit university students, graduates and start-ups in several ways. You will get more details from some of our representatives at this Summit and at the ground-breaking ceremony on Saturday.
My message as I close is simple: Building our region into a prosperous and secured space is our collective obligation. No foreigner would do it for us. Granted that foreign investment is desirable, those who own the land must lead the way and develop in accordance with the values they hold dear.
We are a naturally enterprising people but we are also in love with knowledge and learning. Whatever we propose must take cognisance of who we are as a people and how we want to interact with the larger world. The emphasis must be on getting as many people as possible on this sailing ship but we must never be held back by those whose ideas and methods have never yielded anything beneficial.
In the end, we must never shirk in our duty to show our children the path to a desired future, even if we are unable to get there ourselves. The commitment must be to do better and most importantly, position this land to take advantage of the many systems of benefits that the new global, borderless economy promises.
Thank you for listening, Umu Nne M, Ndi Igbo. May the good Lord guide our deliberations and may our programme be successful. I hope to see all of you on Saturday in Owaza, Ukwa West LGA of Abia State.