FEDERAL GOVERNMENT SET TO REACTIVATE THE STEEL SECTOR, REVIVE MTI ONITSHA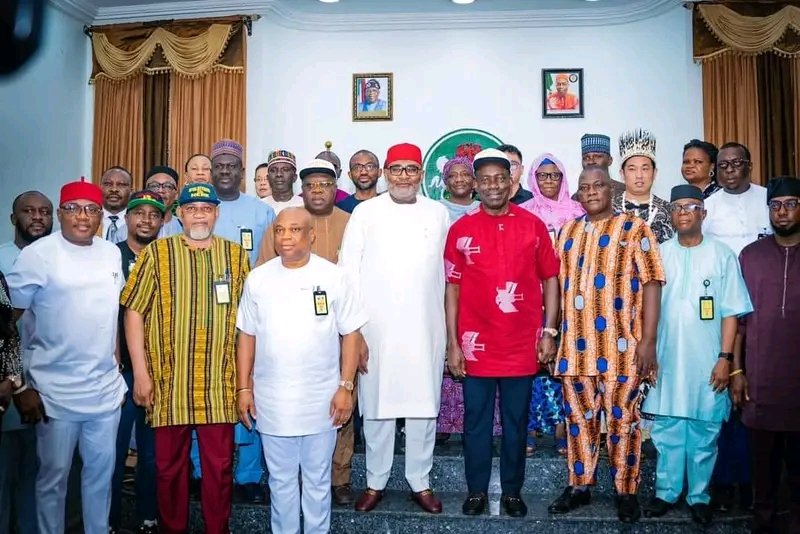 Anambra State Governor, Prof Charles Chukwuma Soludo CFR on Thursday, October 26, 2023 received in courtesy visit the Honourable Minister of State for Steel Development, Uba Maigari Ahmadu at the Governor's Lodge Amawbia, Awka Anambra State.
The Honourable Minister, Hon. Uba is on a 2-day official tour of the National Metallurgical Training Institute (NMTI) in Onitsha which is under the purview of his office.
The Minister during his speech held that it is difficult to discuss Nigeria industrialization without putting Anambra State into consideration as the state prides as one of the highest industrial cluster in Nigeria. He assured that the President Asiwaju Bola Ahmed Tinubu led federal government is intentional about revamping the nation's steel sector to enhance industrial revolution, create jobs and enable economic development.
He added that overhauling the National Metallurgical Training Institute Onitsha is part of the agenda of president Tinubu administration in his move to spearhead a turning point in Nigeria industrial revolution. He stated that Awka Anambra State boast one of the highest blacksmith in Africa which makes the siting of the institute strategic.
Governor Soludo while receiving the honourable minister lauded the President Ahmed Bola Tinubu administration for taking the right direction earlier enough. He lamented that the MTI which was built and commissioned during the late president Shehu Shagari administration in 1983 has remained almost abandoned.
He commended the present administration for "being deliberate to recover the lost decades, it is not late to start now and I'm glad you also visited Innoson" he said. He added that he is optimistic and joyful that this administration is connecting the dots, thinking outside the box to ensure they put necessary things in place to unleash the great possibilities of Nigeria to the world!
Secretary to the State Government, Prof Solo Chukwulobelu, Chairman/CEO Innoson Motors, Chief Innocent Chukwuma, Chief Executive Director of MTI Onitsha, Mr. Bode Fakunde, Commissioners Petroleum Resources, Industry, Environment, Ifeanya Anthony , Mr Christian Udechukwu and Engr Felix Odimegwu , Chief Protocol and Deputy Chief of Staff to The Governor, Chinedu Nwoye Glamour other entourage of the honourable minister and others were at the reception.

SPECIAL ADVERT PROMO FOR 2023 IGBA-OTOMU, IGBA-UCHE, IGBA-EKPE, IZA-UCHE, IGBOTONMA AND IZA-AFA
This is a special promo designed for our brothers, sisters, mothers, fathers etc who are involved in the above events and others not mentioned during this Xmas period to reach out and showcase their event to the entire world at highly subsidized rate.
PACKAGE:
First Leg: Full page Promotional package showcasing your Invitation Card, Banner/Flex, 3 different Photographs and brief of the coming event. Also your picture/Name will be the headline News in AttNews blog(Pre-Event)
Second Leg: Full Page Promotional package of the event showcasing 5 different photographs plus short video clip of the event. Also your picture/Name will be the headline news in AttNews blog(Post-Event).
Rate: N20,000 Only For Both Pre and Post Events. (Rate is only Applicable during the Promotional Period)
For further inquiries, contact the undersigned:
Dr. Uduma Nnate (Publisher)
08132260609
Chief Imo Ukwa(Advert Consultant) 08063779938