PRELATE OF PRESBYTERIAN CHURCH IN NIGERIA VISITS GOV. OTTI, COMMENDS HIM FOR HIS EARLY ACHIEVEMENTS IN OFFICE.
The prelate and Moderator of The Presbyterian Church of Nigeria (PCN) His Eminence Dr. Ekpenyong Nyong Akpanika has commended His Excellency Gov. Alex Otti, OFR, for his early achievements in office. Dr Ekpenyong made the commendation when he paid a working visit to the Governor on 24th October, 2023.
The prelate said "It is a profound honor to be in your presence today, not only to extend our heartfelt congratulations on your recent electoral victory but also to commend you for the early achievements of your administration. Within your 100 days in office, we have noted a great impact that you have made already to the Abians. In fact, the recent opinion poll for the best performing Governor in Nigeria by the Arise Television indicates that you are the best performing Governor in Nigeria today"
Speaking further, the Prelate said "Sir we may not be among those who would be very sycophantic about issues, but we want to commend you. The construction of 9 roads in Aba out of which 5 have already been completed and I think some have already been commissioned is commendable. The rehabilitation of 3 hospitals, we are aware of it, the Abia State Specialist Hospital and Diagnostic Center in Umuahia is also commendable. This is again in line with your manifesto to make the lives of Abians better."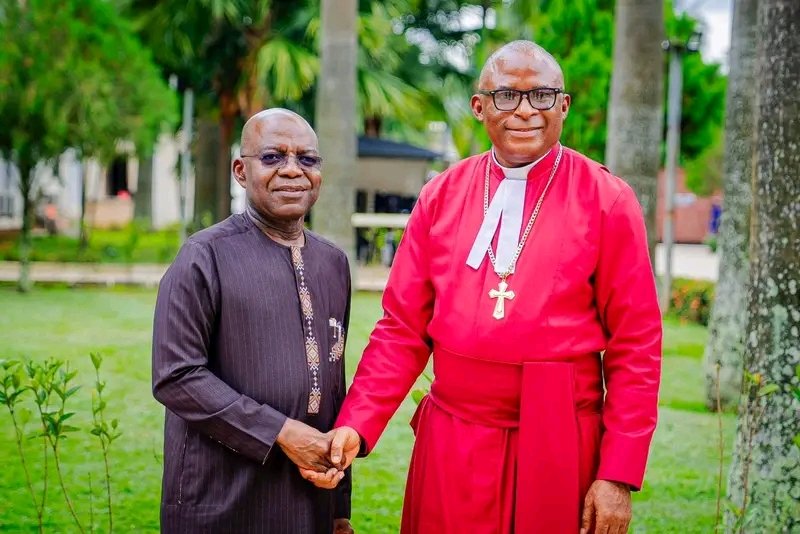 "You have paid the backlog of salaries and pensions within this period. Salaries are now paid regularly. You have reorganized the Civil Service and restored Security to Abians.
The cleric acknowledged that the electoral victory of Gov. Otti is a testament to the trust and confidence the people of Abia State have placed in his leadership.
His Eminence Dr. Ekpenyong Nyong Akpanika used the opportunity to discuss some areas where the Presbyterian Church of Nigeria can work together with the Government of Abia State to foster growth, unity and prosperity. These areas include Infrastructure Development in Aba; Construction of an Ecumenical Center; Hope Waddell University located at Okagwe Ohafia; Collaboration with the European Union Commission; Handover of Mission Schools; Building of Skill Acquisition Center; and so on.
Gov. Otti thanked the Prelate of the Presbyterian Church in Nigeria for visiting and for showing interest in happenings in Abia State, saying that the excitement in the State has a whole lot to do with the leadership of God. He told Dr Akpanikan that he was honored by his visit.
Responding to some of the areas the Presbyterian Church is willing to work together with the Government, Gov. Otti said "On infrastructure, Aba is so important to us. That's why we were and remain single-minded in retrieving Aba from the ruins that have been the story in the past two decades plus. We are in no doubt that fixing Aba means fixing Abia State. We will continue with what we are doing."
On the Ecumenical Center Gov. Otti said "It's interesting that you talked about an Ecumenical Center, it is one of the promises that we made to God. And luckily I can announce that we have acquired land for it. The model that I am using is private sector; I don't want Government to get involved. My Foundation paid for the land. And I'm going to be calling friends like you to give us support so that by the time we are finishing with our first tenure, the Ecumenical Center would have been ready." The Governor said that the acquired land is in Umuahia the State Capital.
Gov. Otti assured that the Government through her relevant Ministries/Agencies will look into other issues presented by the Presbyterian Church.
The Prelate was joined in the Visit to Gov. Otti by Most Rev. Dr. Miracle Ajah – Principal Clerk of PCN, Rev Mrs. Divine Miracle Ajah – Principal Clerk's wife, Rev Dr. Nnoke Ibe – Director of Information and Public Affairs, Eld. Barr. Dr Steve Ahamefula Amaramiro – Member, Board of Trustees, Rt. Rev Dr. Chinedu Okoroafor – Moderator, Umuahia Synod, Rt Rev. Chukwuma Okorie Kalu – Moderator South Central Synod and Rev Dr. Mrs Uchenna Chigozie – Coordinator, Women's Desk.
Gov. Otti was joined by the Secretary to the State Government Prof. Kenneth Kalu, Commissioner for Lands and Housing Mr. Chaka Chukwumerije and Special Adviser Media and Publicity Mr. Ferdinand Ekeoma in receiving the Prelate and his team.
Nwahiwe Chinonyerem Cleverson
(Information Officer – Government House Press)

SPECIAL ADVERT PROMO FOR 2023 IGBA-OTOMU, IGBA-UCHE, IGBA-EKPE, IZA-UCHE, IGBOTONMA AND IZA-AFA
This is a special promo designed for our brothers, sisters, mothers, fathers etc who are involved in the above events and others not mentioned during this Xmas period to reach out and showcase their event to the entire world at highly subsidized rate.
PACKAGE:
First Leg: Full page Promotional package showcasing your Invitation Card, Banner/Flex, 3 different Photographs and brief of the coming event. Also your picture/Name will be the headline News in AttNews blog(Pre-Event)
Second Leg: Full Page Promotional package of the event showcasing 5 different photographs plus short video clip of the event. Also your picture/Name will be the headline news in AttNews blog(Post-Event).
Rate: N20,000 Only For Both Pre and Post Events. (Rate is only Applicable during the Promotional Period)
For further inquiries, contact the undersigned:
Dr. Uduma Nnate (Publisher)
08132260609
Chief Imo Ukwa(Advert Consultant) 08063779938